Prom tuxedos
Maybe you've riding the elation wave that comes after your ideal lady says yes. Maybe you're going stag with a group of your pals and have a great night planned. Either way, congratulations; you're going to your high school prom!
Now comes the part that every guy has to do, whether they have a date or not. You need to look at some prom tuxedos! Don't be worried, this step doesn't have to be hard. In fact, go to the right place and it can actually be pretty fun!
1. Match her colors…a must for the man with a date!
The traditional thing to do is to wait until your lady picks out her dress. Then you simply pick out a prom tux with a vest and tie with a color to match it. If she's wearing a black dress, that's even easier and leaves you with more options.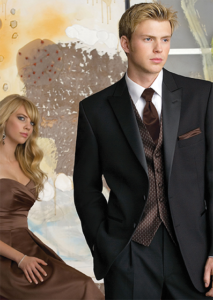 Of course, sometimes girls procrastinate when picking out their prom dress. But Wait too long, and the color you need in your size could be all sold out! (And don't even get me started on the lame trend of girls not letting their guys see their dress until prom day. It's a prom, not a wedding!)
2. Prom tuxedos are even easier for single guys!
However, if you're one of those guys whose going stag with his buddies, then congrats…this is WAY easier for you! No lady means nothing that you're required to match, so you can pick just about anything you want. Some guys go with vest and tie colors to match their school banner, or their prom's theme. Some dudes just wear whatever they want!
And going stag gives you an opportunity to dress as flashy as possible, if that's your thing. I've had guys going solo pick out our bright red coat, our tail coat, even our sparkle coat and pant! (That last was discontinued some time ago…sorry guys!)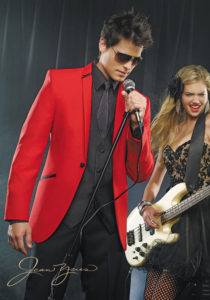 3. Don't lie about your body shape; you'll only cheat yourself.
You're also going to want to be honest with your tuxedo expert on how you want to look. If you're an athletic guy or have a decently slim or average shape, fitted prom tuxedos are generally the way to go.
However, if you're a bit on the bigger side, then don't cheat yourself by trying to squeeze into a fitted tux. A standard fit will end up looking much better on you. I've had several guys say they wanted a 'size smaller' than what I measured them for, only to be uncomfortable the day of the event.
I understand that for most guys, this is their first time picking out prom tuxedos…or any tux, for that matter. But if you go alone, your experts at Mr. Formal will make sure you hit the prom looking your best!