Fitted Tuxedos
I'm sure you've seen the pictures of some of the more old fashioned tuxedos. And to be perfectly honest, many people these days no longer find them very desirable. As such, more and more wearers prefer the cleaner-cut fitted tuxedos.
This is mostly due to the small, minor features that tuxedos popular in earlier eras have. Now, I say tuxedos, but every single one of these thing applies to suits as well. These include:
Shoulder pads
Relaxed fit in the coat
Pleated tuxedo pants
Shoulder pads; not so desirable in fitted tuxedos
Once such feature is the so-called 'shoulder pads.' These subtle inserts are designed to artificially broaden the wearer's shoulders, and make them look more masculine. However, in lower quality tuxedo coats, the shoulder pads are more obvious than in higher quality outfits.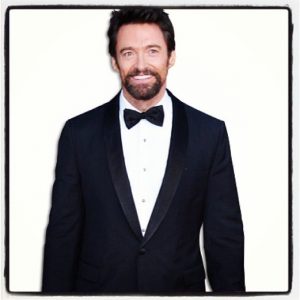 Fitted tuxedos eliminates this undesirable feature by either including much smaller shoulder pads, or eliminating them entirely.
Relaxed fit coat; also referred to sometimes as baggy.
This is another one of those coat features that people don't really find desirable anymore. Many older coats have more of a straight-down cut. This gives them more of a, for lack of a better word, 'boxy' sort of look. This type of appearance doesn't really mesh too well with the typical body type nowadays.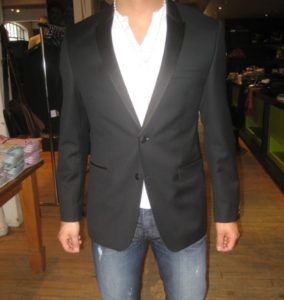 Lots of people prefer the fitted tuxedos also because it eliminates this feature. A fitted tuxedo sports more of a 'tapered middle,' which accentuated the build of the majority of people's body build.
Look over there; is it Shakespeare? No, it's just a guy in pleated pants.
Pleats are small folds in the thigh area of pants. These allow for more mobility and greater comfort when doing things like sitting, squatting, or even dancing.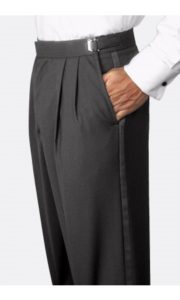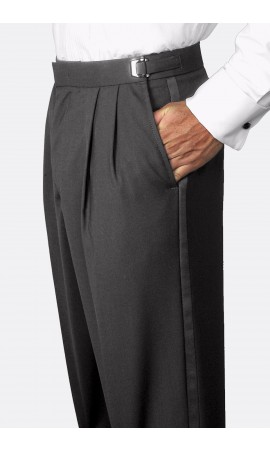 And while this is great, is had the side effect of simply making a person's thighs look wider than they are. It also adds more loose fabric to hang free; not a good thing.
Pants that come with fitted tuxedos not only eliminate the pleats. They also go one step further, and provide a tighter fit. This is also known as 'skinny fit pants, and they do give the wearer's legs a more slender appearance.
However, if you have bigger legs, consider getting pleated pants, or go halfway; look for non-pleated, non-skinny fit pants. Skinny pants and large thighs or posterior are a volatile combination; ripped pants can mean a big rental replacement bill.
So these are just a few of the features that fitted tuxedos don't include. However, there are some cases where these features can be more helpful than out-of-date. Be honest with your tuxedo expert.
How do you prefer your tuxedos to fit? Let us know in the comments and rate the article below!